Russian Basic Language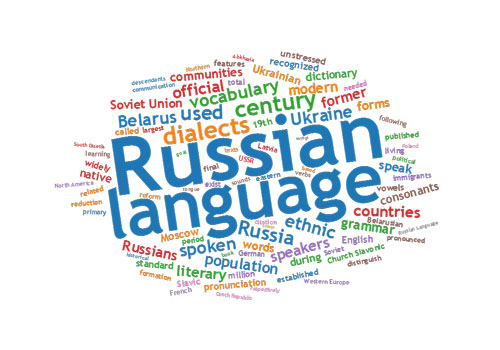 If you want to learn Russian then you have come to the right place! We offer a free online Russian language course for everyone. All our Russian lessons are free, and we intend to keep it that way. We have audio and video recorded by native Russian speakers. Our site is growing and we are adding more and more features to help you learn to speak Russian.
Are you learning the basics of the Russian language for you next holiday? Perhaps you looking for a head start before studying or working in Russia? Or do you wish to become a fluent Russian speaker? There are many reasons people love to learn Russian. It is one of the world's most rich and expressive languages. Regardless of the reason let us assure you that it is worth the effort. We have everything you need to get started learning right here.
In our first lesson you will learn the Russian alphabet. If you can sound out words and place names then you have a huge advantage while travelling in Russia. There are may Russian words that are similar to English they just look different. If you know the Russian alphabet you can also read signs, menus and place names. It may surprise you to learn that the Russian alphabet is easy! Unlike English, the Russian alphabet has one letter for each sound.
Lesson three will teach you basic phrases in the Russian language. By the end of lesson four you will be able to count, say hello and good-bye and order yourself a drink in a Russian bar or cafe. You can learn the basics of Russian quickly and it will help you an enormous amount while travelling. You will be able to see and enjoy more on your Russian holiday.
Many people think Russian grammar is complex. It is no more difficult than other languages such as French or German. Quite often it is just not clearly explained. At RussianLessons.Net we understand that many English speakers don't even remember English grammar very well. We will teach you the basics of grammar without getting too technical, just some basic rules to point you in the right direction. We try our best to explain such concepts very clearly. Our site has a quick reference menu down the left hand side so that you can quickly refer to any information that needs refreshing.
We hope you enjoy learning Russian. Please ensure that you join our community in the forums section of the site. What are you waiting for? Start learning Russian now!
Starting Course
1
Nvidia New Technologies Slides
2
Quiz: Mobile / Native Apps
After Intro
2
Volta GPU for optimization.
Productivity Hacks to Get More Done in 2018
— 28 February 2017
Facebook News Feed Eradicator (free chrome extension) Stay focused by removing your Facebook newsfeed and replacing it with an inspirational quote. Disable the tool anytime you want to see what friends are up to!
Hide My Inbox (free chrome extension for Gmail) Stay focused by hiding your inbox. Click "show your inbox" at a scheduled time and batch processs everything one go.
Habitica (free mobile + web app) Gamify your to do list. Treat your life like a game and earn gold goins for getting stuff done!